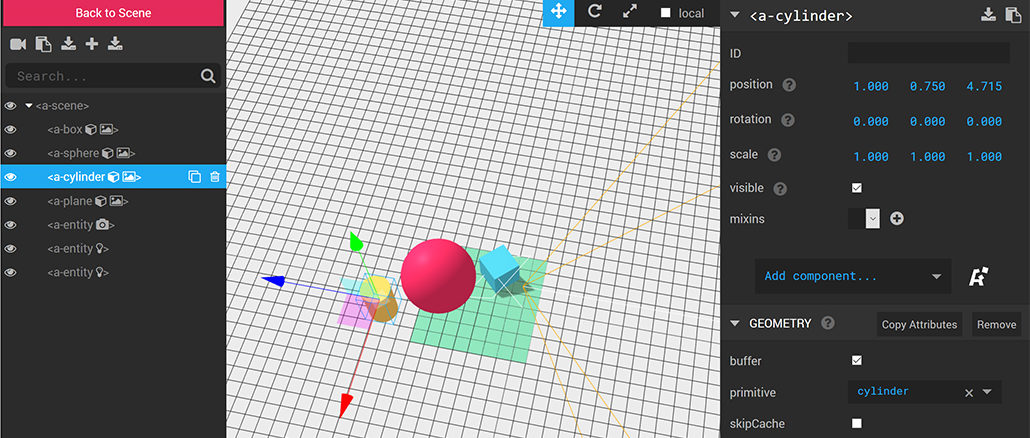 Virtual Reality (VR) applications allow to create virtual worlds, which can be viewed with the help of VR glasses (such as the Google cardboard). In the application it is possible to include 3D objects, images, videos, audio files as well as animation and interactivity. Viewing a VR application is impressive, since it is possible to see a 360-degree virtual world and interact with it.
Amazingly it is quite easy to build VR prototypes. The open source project A-Frame from Mozilla allows to build worlds with the help of descriptive tags, such as <a-box>:

The University of Applied Sciences in Chur (HTW Chur) offers several Bachelor and Master studies programs, for example Multimedia Production. In this Bachelor the students learn how to prepare and present content with film, text, graphics and audio as a means of expression as well as their linking in digital applications. Content not only consists of text, images, videos, 3D objects, animation, interactivity etc. It is also based on a communication story.
In the fourth semester I introduced to the students A-Frame, the framework from Mozilla to create virtual reality experiences. To help the students to understand the concepts and to give examples I created a Tutorial, which explains all the basics starting from drawing and placing simple objects thru animation and interactivity. Have fun using the tutorial!
Some A-Frame Examples created by students
Contact
Martin Vollenweider, HTW Chur (Switzerland)